I am by nature a creative, detail-obsessed, master procrastinator.  S0, it is a tremendous accomplishment that I managed to do something I promised myself (and all of you!) that I would do….  I CREATED MY FAMILY'S FIRST ANNUAL YEARBOOK!  Last fall, in this post, I recounted some rather painful instances of losing some precious digital pictures when some image files corrupted.  I then knew that I had to finally live by my own motto I share with clients and PRINT MY PHOTOS before I lost any others.  I had always hoped to take all the photos taken of our kids, print them, and put them in a painstakingly hand-crafted scrapbook, complete with overpriced embellishments, fancy patterned paper- the works.  (The key word here being hoped).  Upon taking a realistic look at our lives with two small children (and a growing business of my own) I knew I would never really have the time I'd wanted to take on such an endeavor.  So, I decided to settle for the less-personalized, yet far quicker option of paying an album-printing lab make my scrapbook for me.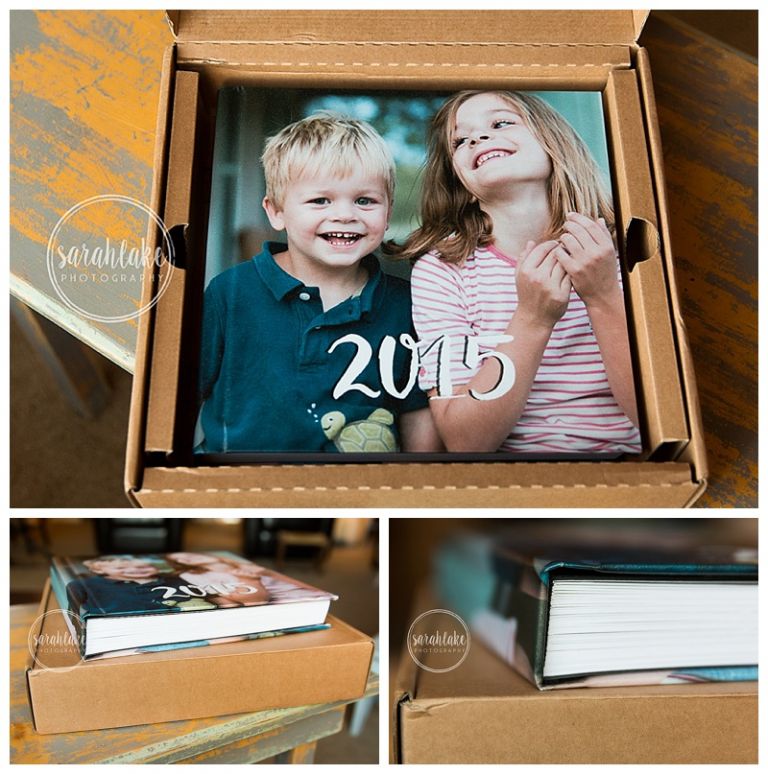 Man, am I ever glad I took that easy way out.
I used some album-building software I recently purchased and had created a 60-some page album in a matter of just a couple hours.  I used all those photos I've taken over the past year- most of them on my phone- and created the most beautiful family keepsake I could ever have hoped to make!  Now, as you can see, these pictures weren't anything really special.  They weren't necessarily wall-worthy portraits, or anything I'd brag about taking, but they were special to ME.  They all happened at those sweet, funny moments that made my heart melt, and made me go grab my camera in the first place.  I mean, WHY do we bother to grab our phones and cameras and take pictures of things anyway?  Especially pictures of our kids??  Hopefully it's not just to have something to post on Facebook…  I think for most of us, it's because there was something in that moment that we never wanted to forget.  Well, the only way you'll truly NOT forget that moment is turn that electronic data into a real, tangible photo and print it.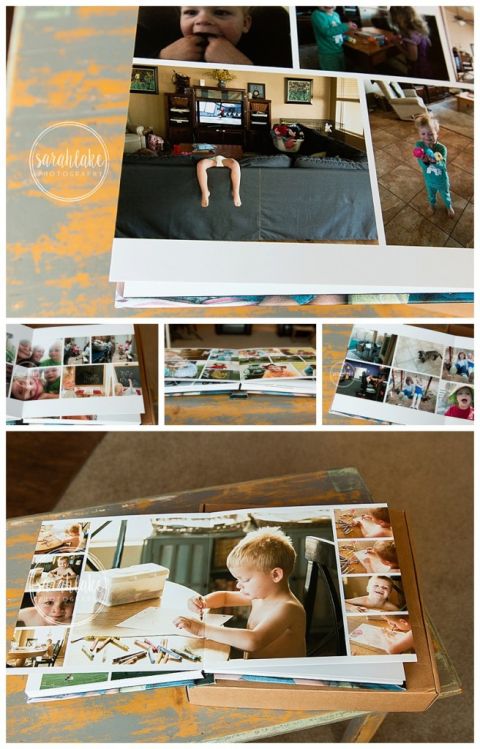 I managed to surprise myself again and place the order the first week of December and receive it a week before Christmas- so that I could give it to my husband as a surprise Christmas gift.
Ask anyone in my family- I am a HUGE procrastinator.  So if I can do something like this- you can too!  I mean it.  Even though the album building software I used made it extra-easy, there are half a dozen web-based services that can do this "designing " for you!  In fact, one of them even calls theirs "automagic" layouts.  And that's pretty much the truth! Upload the pictures you want to use, choose a handful, drag and drop them on the page, then click that magic button to have the app miraculously mix up the arrangement until you see the one you love.  If you want to choose one of these websites, to finally print your own photos, I've mentioned a few here.
For all of you who've had a digital picture "scare" and had fire lit under your heinie to somehow print your pictures so you won't lose them forever, I hope this is another spark to that fire that will motivate you to finally do it!  My kids have LOVED looking at our first family "yearbook" and I know that in the years to come, it will be even more special to them.  And me too.
What are you waiting for??  😉