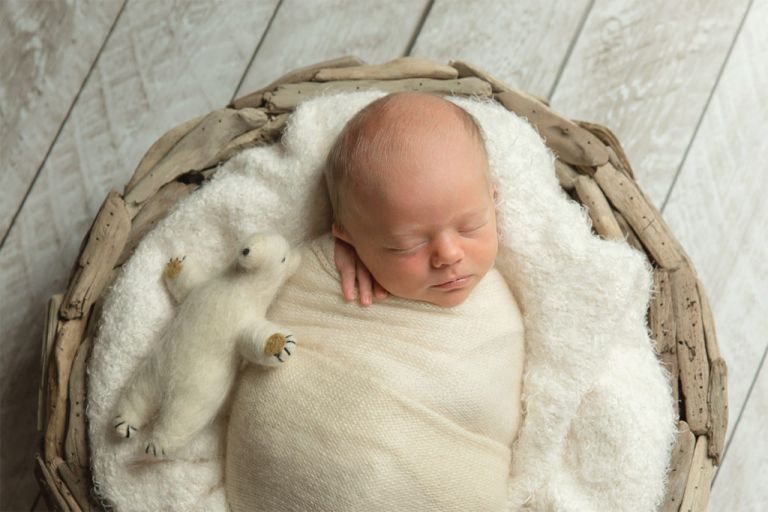 I often hear the questions, "When is the best time to book newborn photos?" and also, "When is the best time to TAKE newborn photos?"  And there are two very different answers to these questions…
When should you BOOK a newborn session?
When should you BOOK a newborn session? As soon as you know you're expecting!  🙂  Well, it may not be completely necessary to book that early, however it's a great time to begin looking for newborn photographers near you and decide on what type of artwork you're looking for!  And booking (meaning paying any deposit required to secure your date on your photographer's schedule) is best done– at the latest– during your second trimester.  The closer you get to baby's due date, the more likely the photographer will be completely booked during that time.  It's first reserved, first served- so be sure to snag your slot early on!
But WHEN do we HOLD the photo session?
That's typically done within baby's first two weeks of life!  During their first 7-14 days or so, babies are still VERY sleepy and very flexible- just like they were in the womb.  This new-ness is what allows them to be molded into those adorable, curly, womb-like features that highlights all their tiny, precious features.  It also means they will likely sleep for the majority of their session (expect for nursing breaks, diaper changes, and mommy or daddy snuggle breaks, of course!) A sleeping baby is simply easier to photograph and allows the photographer to capture a wider variety of images for their families.
Types of newborn photo sessions
Signature Newborn Session
The types of images created by newborn photographers has come to be as diverse as the babies themselves.  But typically, you'll see a couple of styles:  There's a traditional portrait session- like of baby Harry here- that uses custom styled set-ups to capture beautifully-lit images of baby, and their family.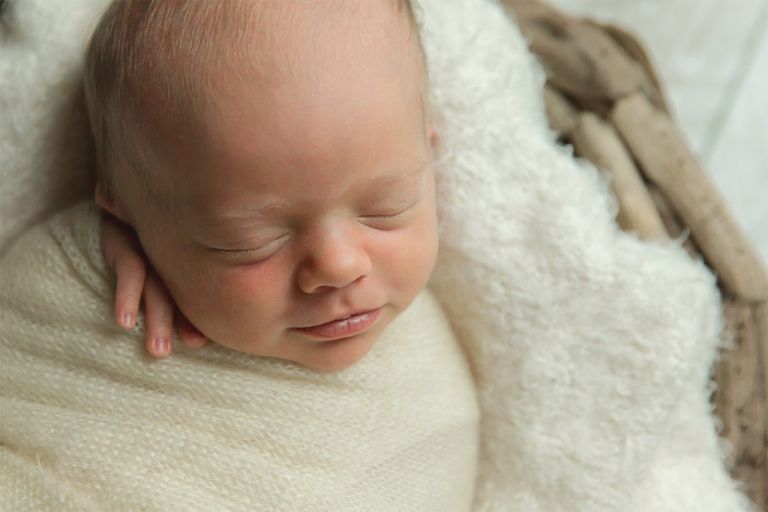 Fresh 48 Session
There are also sessions that are considered more "Lifestyle," meaning they are captured just as they're happening, their surrounding environment included- either in your home or in the hospital.  With a Fresh 48 Hospital session– pictured below- your photographer captures the brand-newness of your baby and your family-  right in your hospital room.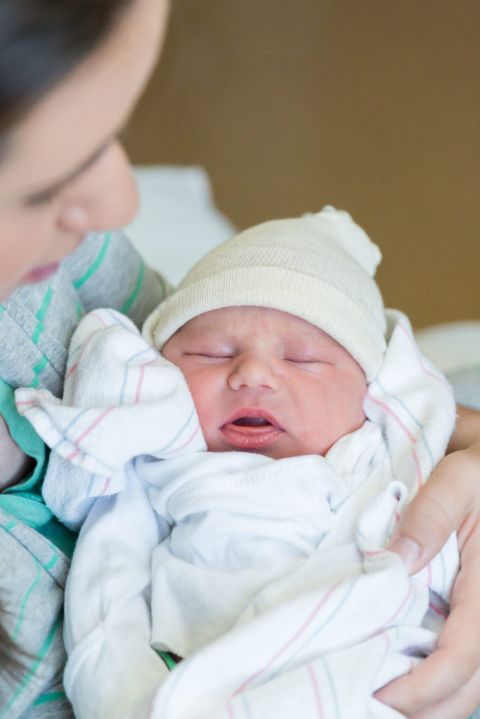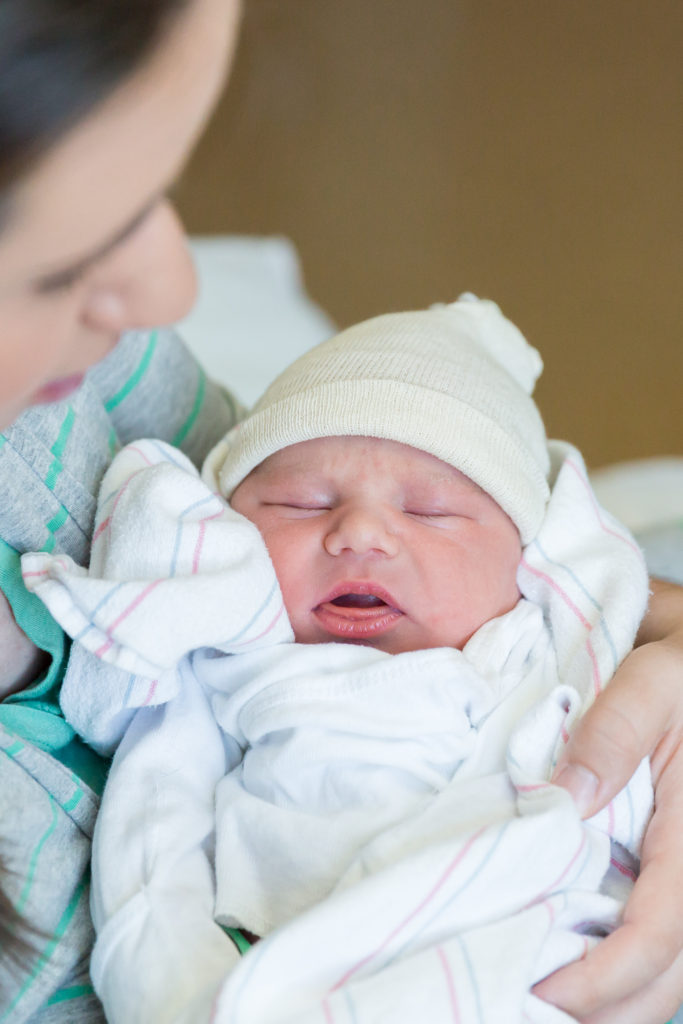 Whatever style you prefer, it's never too early to get in touch with the photographer whose work you love and tell them you'd like to get on their calendar for the month that you're due.  In fact, the earlier, the better for YOU.  Those first couple days home from the hospital, you will most likely feel like you've lost all brain function.  Seriously- I can speak from experience!  Having your baby's session all planned is going to be SUCH a relief for you at an exhausting time of your new lives.  Waiting until after baby arrives to try and choose a photographer is always harder and more stressful.  So, I encourage parents to book their session when baby is still in mom's belly, because not only does it make a better experience for YOU, it is simply easier and less stressful on you during an already life-changing period of time.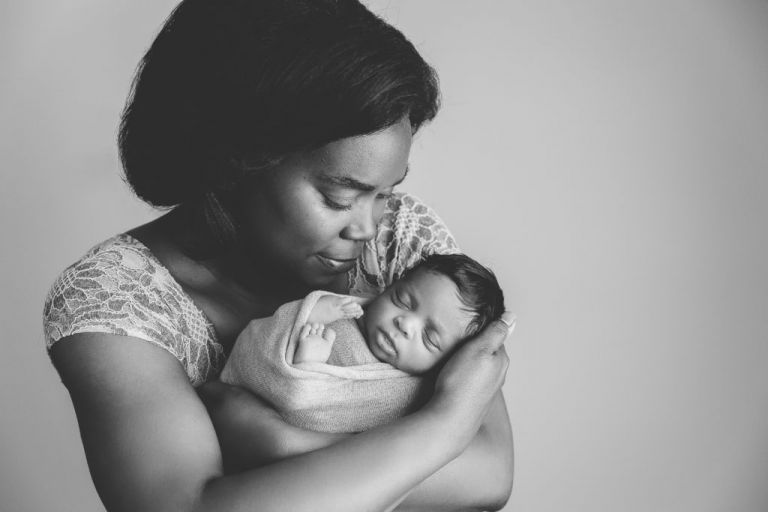 Booking your newborn session with SLP
When you choose to book your newborn's very first portraits with Sarah Lake Photography, I will essentially block of a period of several days around your due date (since we know we can't really county on baby to come on the day we have planned!) And after baby is born, we then finalize your date and time to bring baby to the studio- which is usually around baby's second week. 🙂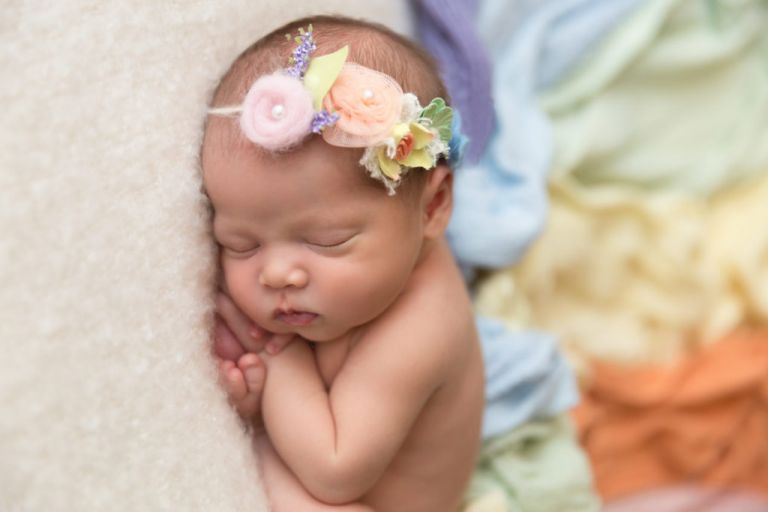 Furthermore, I only schedule a limited number of newborns each month.  This allows me to enough time to plan and customize for each of my clients, schedule around early babies, late babies, c-sections and the like.  
I only book a limited number of newborns each month, as I am committed to giving each of my clients an amazing experience and the very best customer service.  After the care and safety of my tiny subjects, my clients are my number one priority.  I am so grateful for their trust in allowing me to capture their families and for supporting my business of doing what I love!
I you have any questions about a newborn session with SLP, please drop me a line here!  I'm more than happy to help!
To see our newborn session details and options, just click here!